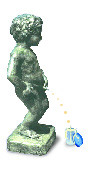 Urinalysis is the traditional choice for drug testing. Urinalysis is the only type of drug test approved by the Department of Transportation (DOT). Urinalysis has many advantages:
Detection window goes from 5 hours to several weeks.
Drug levels are higher in urine than in blood.
Courts and arbitrators are familiar with urine testing results and can rely on important legal history.
Information about substitution, dilution and adulterants is easily available on the Web, which encourages drug users to cheat on their test. However, laboratories have many ways to check for specimen integrity. For example, a low level creatinine shows substitution or dilution of the specimen. Temperature of the sample is also tested to make sure that the specimen belongs to the donor.
Urine samples can be used for 4, 5 and 10 panel screens:
The 4 panel inhalant screen includes: Benzene, Toluene, Xylene, Freons.
The 5 panel screen (DOT Panel) includes: Amphetamines, Cocaine, Marijuana, Opiates, PCP.
The 10 panel screen includes: Alcohol, Amphetamines, Barbiturates, Benzodiazepines, Cocaine, Marijuana, Methadone, Opiates, Phencyclidine and Propoxyphene. We can also custom create panel screens upon request.
Our Urine Drug Tests
Below is a list of our most popular laboratory, CAP certified drug tests.